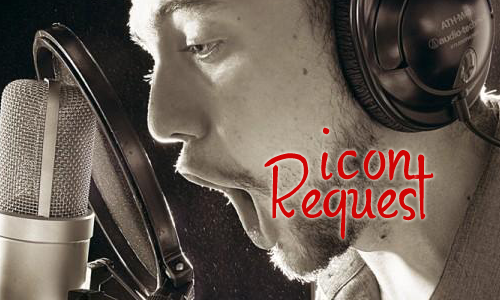 Rules:
01: Please comment with the information, you can PM me as well if you'd rather.
02: Please provide the picture(s) for the icon(s). (or you know, a link to where I can find the picture you want)
03: Any text you want must be stated at the time of the request.
04: No Animation requests this time
05: Please state if you'd like the creations Shareable or not
So other than that - sky's the limit. Anything you want, even if it's something (someone/some fandom) I don't normally make graphics with.
I've been participating in all my old (well maybe not all) icon contest communities for a week now. That means in another week or so I should have enough icons to put up a round up. I want to thank those of you who didn't unfriend/unlike/delete me while I worked through how to balance everything in my new life out. But I feel like I have some time to do a few more icons than what I am so:
You can find voting
HERE
.
Thank you!
I rarely ask for this here, or even pimp my own communities here...BUT...I have a TON of ties over in my toon icon community. If any of my lovely icon lovers that follow me here have a free moment today, can you hop over and look at the 18 icons and vote in the THREE polls (just 4 poll questions). I mean really, we have so many ties it's too crazy for me to even put up a tie breaker post.
Samples:


(
Find Them All Here
Collapse
)
And I want to say a special thank you to those of you who didn't unfriend this journal while I tried to get back into the swing of things. I have no idea what the new year will bring as far as icon, but I truly hope to get back into them. I miss my icon communities...and I miss hearing from all of you.
Okay, so before I jump back into icon contests and such I needed to clean up my folders of all the icons I made just randomly. I can't tell you how many images are sitting in my "to icon" folder that I have just saved for when LJ goes down again and I want something to do. But until then, 84 new icons from me. They are of so many random themes I don't know where to begin...only that I thought the images were pretty and would make awesome icons.

Life's been pretty busy here for me.
New baby (can you all believe she's almost 9 months old already?)
New job...

Well it seemed like a lot of new things until I tried to write it out.

Anyhow, I took my last holiday photoshoots yesterday (two of them). I should have them finished editing tonight. That means my life should slow down a bit and I can catch up here.

I have a TON of icons to share with you...AND I need to do my holiday icons. I'm not quite 100% sure on the sayings on them, but I'm opening comments here for what actors/characters/object/ships/shows and so on you want. I'd like to load up my first batch with as much as I can that the people who watch me hear want. Of course I'll make it an open request like every other year...but here's your chance to get me started right. Comment with what you'd like to see...and I promise updates coming soon...thank you for sticking this adventure out with me.
So...um...

Wanna see some new ones?
Anyone miss my icons?
Life has gotten really busy, and although it's awesome to have my own company take off for me, it's left me with very little time to do anything else. Couple that with the baby being mobile now and whew...I'm one busy momma. But I'm going to try to catch up here over the next few days. I thought I'd start out with one of the last challenges I did at
landofart
. It was similar to a 20in20 challenge. We all listed what themes we wanted to icon and fifteen of them were chosen for us to icon. I did my set around the TV show "Pretty Little Liars".
Samples:


(
Two Can Keep A Secret If...
Collapse
)
Comments are Mad Love (and may inspire me back to do more)
Credit is always nice
Hotlinking Sucks
Textless are not bases
Enjoy
Hi! Remember me? No? Me either. :)
Samples:



(
86 Icons Back Here
Collapse
)
I should have done this a week ago I guess, but here's a round of from the latest icon contests that are finished.
My entry for the
landofart
top 5 favorite characters challenge.
(
Wanna know who they are? Click Here
Collapse
)
Same as always -
Comments are love
Credit is nice
Hotlinking sucks
Textless are not Bases
I promise this is the last one I'll post here today. :)
In catching up with the icon/graphics world I have my entry for
landofart
Mini-big bang challenge. I believe my twitter background and 11 icons equal up to 100 points.
Samples:



(
All of them are here
Collapse
)
All the usual:
Comments = Love
Credit = Nice
Hotlinking = Sucky
Textless does not = Base
I'm trying to spend as much time today catching up on LJ things. I'm WAY behind. If anyone asks, starting your own business is VERY time consuming.